Ardent Michal is shibari and BDSM lecturer and performer, based in Prague, Czech Republic. He is mainly characterized by significant dominant/submissive emotions and vigorous body handling.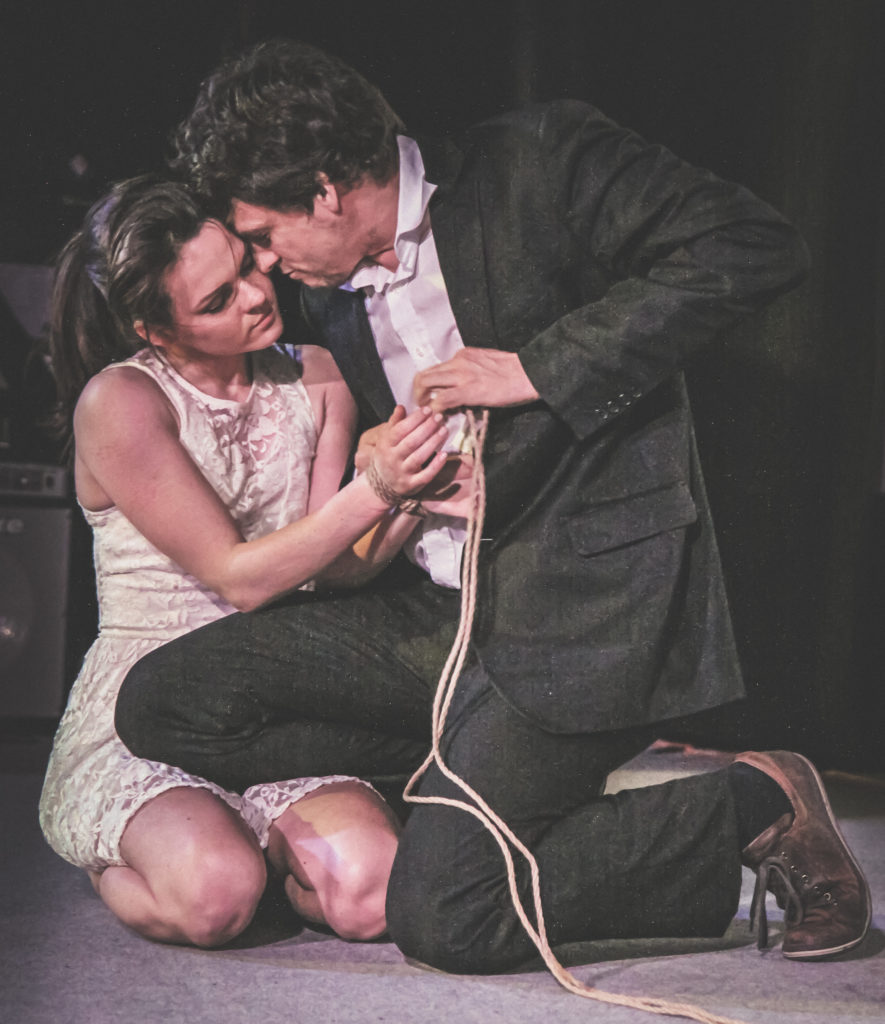 About Ardent
I love 1) shibari (bondage), 2) spanking (from hand to long whip), and 3) rough body play (manipulation and physical overpowering). I especially enjoy 4) D/s (dominant-submissive symbolism and playful communication).
I bring thrilling emotional and physical sensations into play, but avoid unpleasant pain ("you can even caress with a whip"). My way of "Captivating tying" (close to Yukimora Ryu) is based on the idea that I'm the most interesting object for my partner, not ropes or other devices. I like to alternate drama with tenderness and enjoy any kind of expression and communication. My motto: "Enjoy your partner and yourself!"
---
Lessons, workshops, exhibitions and sessions
I'm available throughout Europe. I can visit you or you can visit me.
1) Public workshop
The public workshop is teaching of desired topic for group of couples (I have no capacity limit). The workshop usually last whole day (from 11:00 to 18:00) with 1 hour break for luch.
Typical topics I teach: Basic or Advanced shibari, Captivating tying (my core topic: approach to partner and building strong emotions), Spanking, Whipping, Rough Body Play.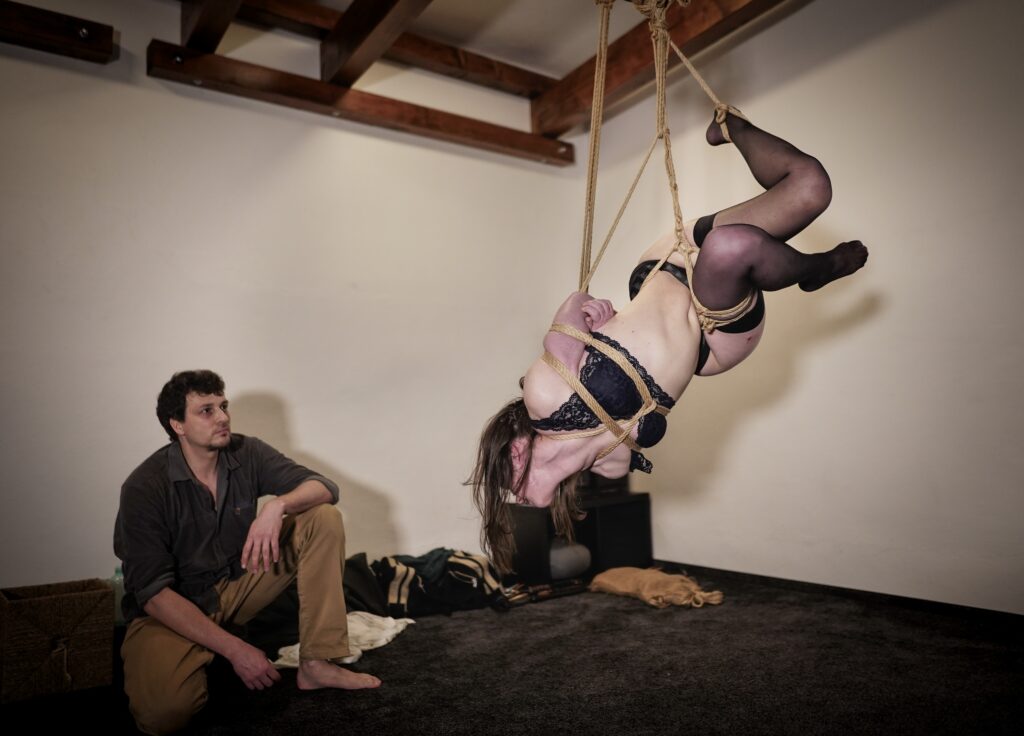 Standard Price: 900 EUR/day (depends on details).
Order simply by e-mail: michal@ardentshibari.com, Facebook, Instagram or FetLife.
---
2) Private lesson
A private lesson is the teaching of desired topic to one, couple or a few people. The advantage is privacy and very personal approach. The topic and content will be at your request, and should be adjusted even during lesson according your interest. One lesson usually last 3 hours but should be longer.
Typical topics I teach: Basic or Advanced shibari, Captivating tying (my core topic: approach to partner and building strong emotions), Spanking, Whipping, Rough Body Play.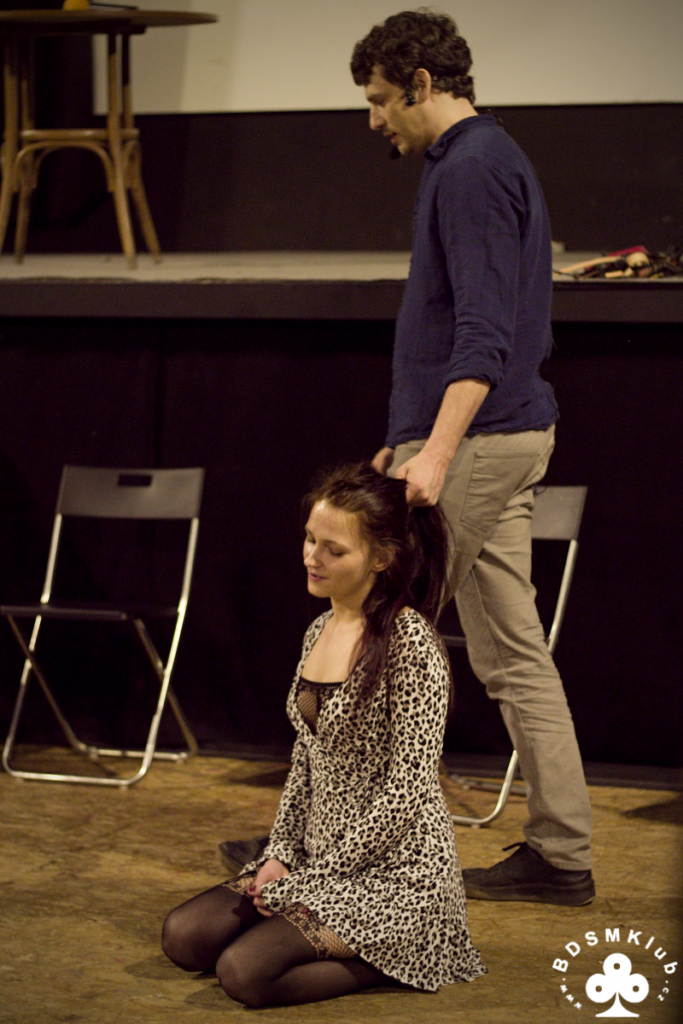 Price: 70 EUR/hour.
Order simply by e-mail: michal@ardentshibari.com, Facebook, Instagram or FetLife.
---
3) Exhibition
I have a lot of experience with exhibitions for various audience – from small private clubs to big scenes with thousands of people. I always make sure my performace is real enjoyment for my model as well as for myself. We neither present just technical tying, nor pretend fake emotions, but we expose our true inner feelings in really attractive way. The performance usually lasts 30-60 minutes. Beside the ropes I like to use long whip and present natural D/s interactions. However the content and form should be adjusted to your needs and wishes.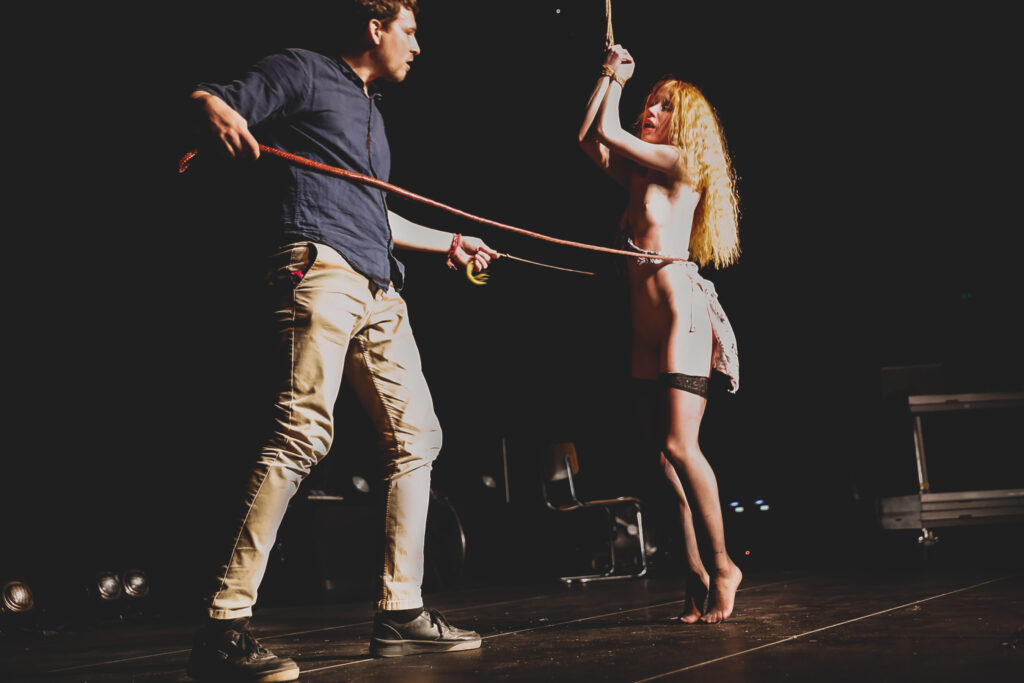 Standard Price: 100-500 EUR (depends on details).
Order simply by e-mail: michal@ardentshibari.com, Facebook, Instagram or FetLife.
---
4) Adventure session
Whether you are new to BDSM and would like to try it for the first time in a safe environment and with a trusted partner (me), or you simply like my style – I offer you a unique experience in which you will become the object of my intense interest.
I enjoy playing with new people. My main motivation is discovering a new partner and having fun with her. My approach is usually characterized by strong physical manipulation and dominant/submissive emotions. I like to tie on the ground, in a contact way. My suspensions are not overtechnified, but vividly tied, exposing the body and enhancing its beauty. I enjoy spanking with various instruments – from my hand to a unique long whip. Even when I appear very serious or fierce, I'm under control and carefully dose the pain and other sensations to keep it pleasurable. "I like the pain emotional rather than painful." Anyway, I adapt all my actions to my partner's reactions, and also to my mood and taste. The session is therefore not just a "sterile sequence of practices", but an organic and authentic play.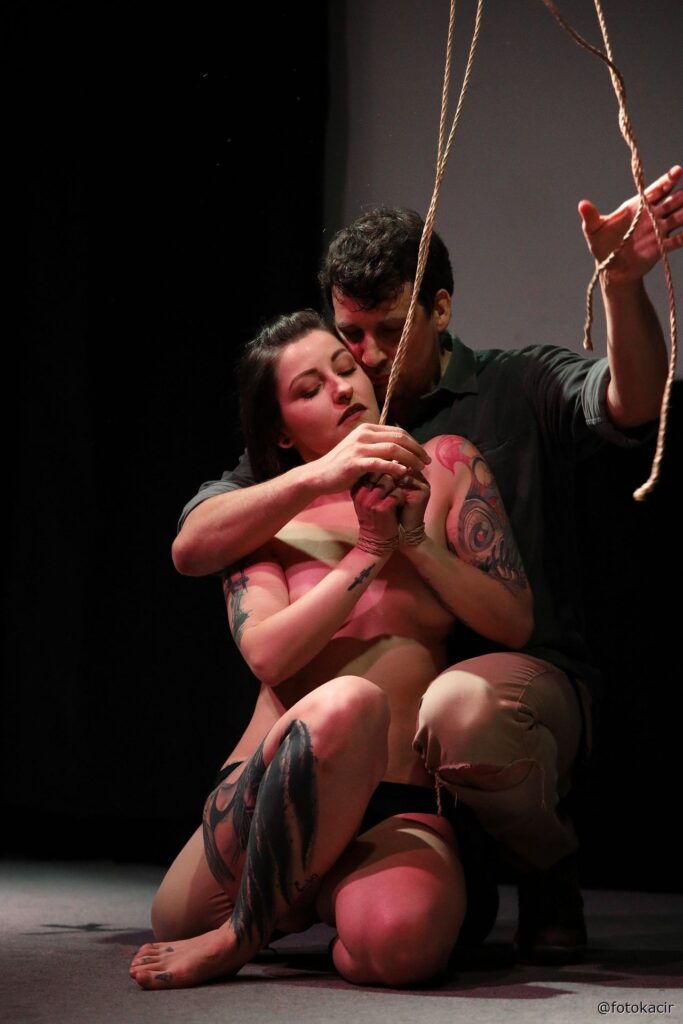 Price: 100 EUR/hour. Details will be discussed before.
Order simply by e-mail: michal@ardentshibari.com, Facebook, Instagram or FetLife.
---
My background
I started to study shibari in 2014 and found it as a perfect way how I can express myself, and share emotions with my partner. Later I found myself mostly in Yukimora ryu, although I mix it with other influences. My most important teachers are below. Since 2017 I have been teaching and performing. It makes me happy when others enjoy it as much as I do.
My mentors
I never want to stop learning. I have learned shibari and other BDSM practices from many teachers (and I have visited most of them more than once).
Soptík
Soptik taught me the most. He is undoubtedly the leading person of the Czech shibari scene. I love his useful way of teaching as well as his effective way of tying. He has been based primary on Kinoko Hajime's and Osada Steve's schools, and now tends strongly to Naka ryu.
Michael Ropeknight
German rigger, one of the few who teach my favorite Yukimora ryu. At his workshops, I was surprised to find very different tying techniques than in other styles after all these years. Yukimora with his simple "caressing rope" and "kotobazeme" approach fits my mind perfectly.
Riccardo Wildties
Well-known rigger, founder of Kinbaku Luxuria and a leading person in the Naka style. Beside his precise technique and strong emotions, he is able to teach in a brilliant and entertaining way. I took tons of facts and ideas from Riccardo's workshops that I use "everyday", although Naka ryu is not my main way of tying.
Yoroi Nicolas
A famous rigger with a very distinctive style. He usually uses minimum of ropes, ties models in unconventional positions and torments them. He brings great inspiration. He has pushed me in the area of human and rope manipulation.
Kasumi Hourai
A Japanese woman with 20+ years of experience tying Naka Ryu. Especially her authenticity was a great experience and adding context for me. Althrough I'm not trying to play myself to Japanese, I really love to humbly observe and compare Japanese thinking and approaching whole life.
Zor Neurobashing
He is from the Canary Islands and is primarily a photographer and Madrid shibari organizer. In addition to technical photographic knowledge, he is extremely good at conveying aesthetic sensibility and describing what makes a scene interesting – or how to capture a mood in a photo. Attention to the detail, to the moment, free from "acrobatic shibari" – more focused on the mind.
WykD
The famous British rigger. I enjoy how smootly he manage all common technical details. I always take something practical from his lessons.
Andrea Ropes
An Italian rigger. He's fun in civilian life, but technical when tying. Teaches the more complex patterns well. That was exactly what I needed at the time.
Pedro Cordas
Portuguese. For the first time he surprised me with a completely different approach to tying than I had known up to that point. He almost did not touch the model at all, he neglected himself and just tied quietly and calmly. Everything that the model perceived was conveyed to her just by attaching and tensioning the ropes. Don't expect wildness, but a precise and calmly executed sophisticated technique.
Frank and Sheila
The Austrians, friendly guys, specialists in Rough body play and Playfighting. Fighting, beating and inflicting pain with the hands – all in a pleasant way, of course. Excellent also for feelings of shame, fear, dominance … I completely found myself in their approach and took a lot from them.
Janek Šlonc
A bit inconspicuous, but very sensitive and friendly man from Czechia. He educated me in the production and processing of jute ropes. And gave me a very useful foundation in human body manipulation in the context of shibari.
Kapitán papírového loďstva, Delta, Fred RX
From these three guys I gradually acquired different knowledge about whips and whipping. Kapitán introduced me to long whips. Delta added some topics about shorter whips. Fred RX inspired me with the signal whip. My current whipping approach and technique is my original one.